Announcing "Zombie Boy: Press Start"!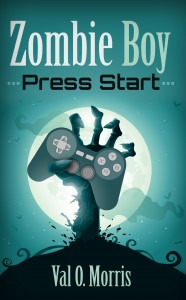 Baseball, video games, and… zombies. What could possibly go wrong?
Liam Walker wants is to be an all-star baseball player, but life has other plans. When his best friend, Katie, lends him a video game, his world literally changes. Transformed from a down on his luck boy next door into a zombie bashing video game character, Liam must learn to deal with bullies, new friends, and loss while attempting to learn the rules of the game and save everyone from a zombie apocalypse.
With time running out, can he navigate his way back to the real world before it's too late? Or will the appeal of being a zombie slaying hero have him staying in the video game world forever?
"Zombie Boy: Press Start" is my third book and the first in the "Adventures of Zombie Boy" trilogy. It will be available very soon! My nephew is the biggest zombie fan I know and, after reading "Monster Girl", it was only natural that he encourage me to write, as he called it, 'The Adventures of Zombie Boy'. How could I say no to that? Combining our mutual love for gaming and his infectious enthusiasm for zombies, the story of "Zombie Boy" was born.