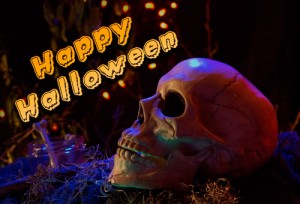 What does Halloween mean to me?
To a horror fan or Monster Kid, Halloween isn't just a day at the end of October; it's a month long celebration of our year round love affair with all things spooky. While I enjoy horror movies every day of the year, I ramp it up during October, and I also throw in visits to local haunted attractions and parties with friends.
Halloween got its start as a Celtic holiday when people celebrated their deceased loved ones at harvest, and would dress up in monster costumes to walk among the dead and not scare them away. While I don't celebrate the holiday in the same fashion, I do appreciate its history. Halloween is a time for fun, and I enjoy keeping the Monster Kid in me alive by dressing up in my favorite monster costume and celebrating with friends and family.
What does Halloween mean to you?
Don't forget: Today is also the last day to buy "Monster Girl" on sale – it returns to full price tomorrow, November 1st.
Earlier, I posted a list of 31 horror movies as suggestions for what to watch to get into the Halloween spirit. I didn't get to nearly as many scary movies as I wanted to, but I did a see one new one that I LOVED – "Exists", directed by Eduardo Sanchez (co-creator of "The Blair Witch Project"). It's a found footage horror movie, which I'm not a big fan of, but it was well made and very INTENSE!
What did you watch this scary season?